10-Oct-2021
Glacier Benito Revisited
General Information
Glacier Benito (Glaciar Benito) is a west flowing outlet glacier of the North Patagonian Icefield in Southern Chile, 47°S, 74°W. It was studied over a five month period in 1972/1973 by a British Joint Services Expedition which was based in Kelly Inlet (Abra Kelly). In 2007, Martin Sessions took a team back to Kelly Inlet and Glacier Benito but circumstances prevented that team from penetrating up the glacier to repeat survey work undertaken in 1973. In 2011, Martin with Olaf and Peter travelled overland from Laguna San Rafael to the glacier and then up the lower reaches of glacier to repeat some of the 2007 survey work. One objective was not achieved on this trip, so in 2017 Martin, Olaf, Mark, Marcos and Johnny went by helicopter to the middle zone of the Glacier for six days.
Location and Changes Summary
Changes - Last Updated: 16AUG2013
History of Visits
2017 Expedition Journal - Last Updated: 26APR2017 - What a stunning backdrop to the Glacier!
2011 Expedition Journal - Last Updated: 29MAR2011 - Well worth the look!
Other Stories
100 year Anniversary of the 1920-21 Swedish Expedition to South America - Chilean Patagonia Leg Last Updated: 10OCT2021
Glacier Rabot - disappeared for ever . . .Last Updated: 17NOV2020 - RIP
Papers on Glacier Benito and Surrounding Area
Post-1850 changes in Glacier Benito, North Patagonian Icefield, Chile
Rapid Surface Lowering of Benito Glacier, Northern Patagonian Icefield
1972
2007
Where has the glacier gone?
| | |
| --- | --- |
| | |
| 1972 | 2007 |
Map of Northern Patagonian Icefield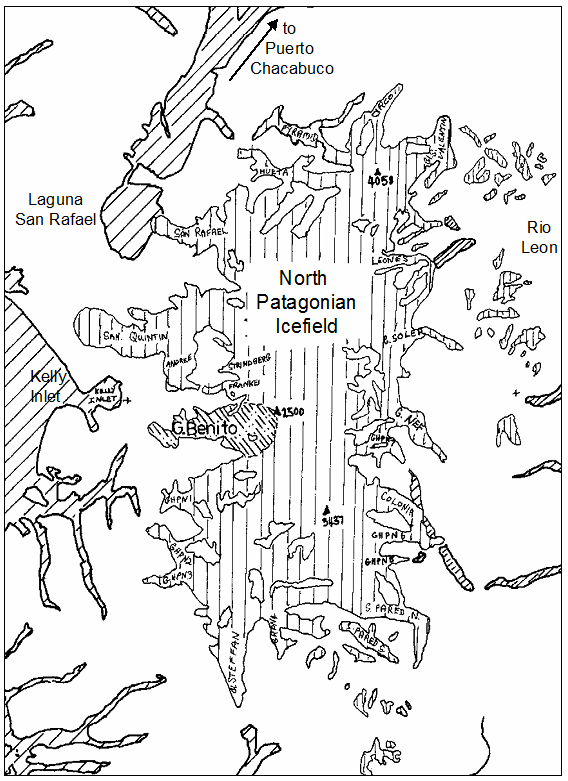 Sketch Map of NPI (1972)
---